Neapolitan mandolin restoration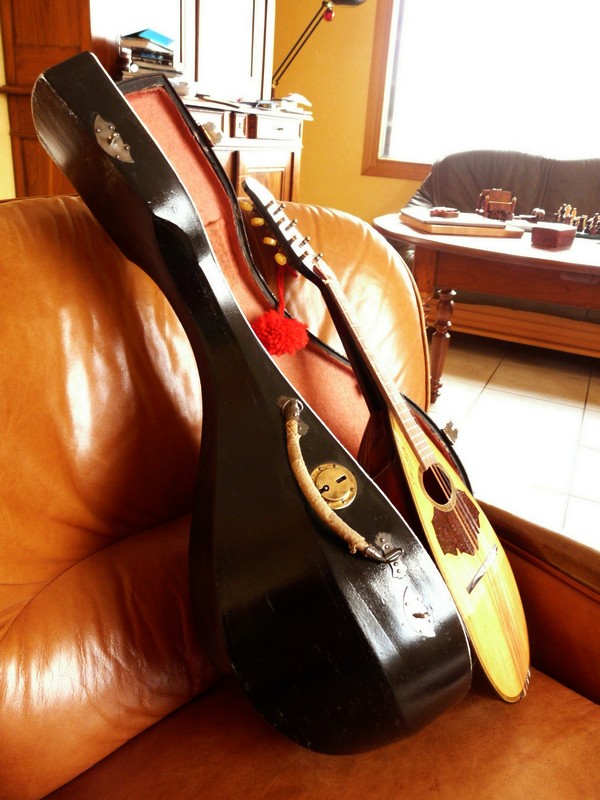 Table of contents :
Restoration of an old mandolin
History:
This mandolin is signed : "Fratelli Umberto, Napoli".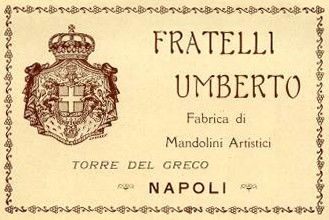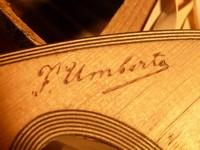 Despite this signature, that appears to be unequivocal, this model was actually built by the house "Laberte-Humbert Frères" from Mirecourt, France, in the years 1910s.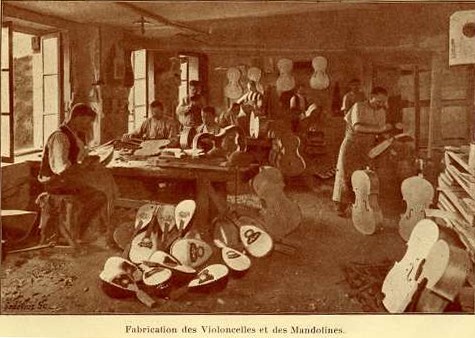 One can notice that "Umberto Fratelli" is simply the Italian translation of "Humbert Frères" (Humbert brothers).
Indeed, we can find a trace of this mandolin in the Laberte-Humbert catalog of 1912, that can be consulted on the fascinating site "Luthiers- Mirecourt".
This mandolin has a spruce top, not varnished, like it was customary for the oldest French and Italian mandolins.
The back has a bowl shape and is made of rosewood.
The neck and the peghead are made of maple, black painted.
There is no MOP inlay, just a brown wood veneer on the top (which wood ?).
This mandolin has not been played since years and years and it suffered the offence of time:
- Split along a rib of the back
- Several important cracks on the top
- Like a lot of old mandolins, the neck/body joint has worked, resulting in a rotation of the neck in the direction of the string tension. The playing action has become way too high at the joint level, the mandolin was unplayable at this state.
I have unfortunately no picture before removing the top, being probably too much in a hurry to come into the heart of the matter…
Restoration :
Before tackling this restoration, I have searched for documentation, and I must admit I was delighted discovering the site "Mandolin- Luthiers" from Dave Hynds.
This site is a wealth of resources for restoration of mandolins, whether it is for diagnostic establishment of for repairs, until applying the finish.
Dave Hynds is additionally of great kindness and provided me with precious advice, I thank him again.
And here is the result :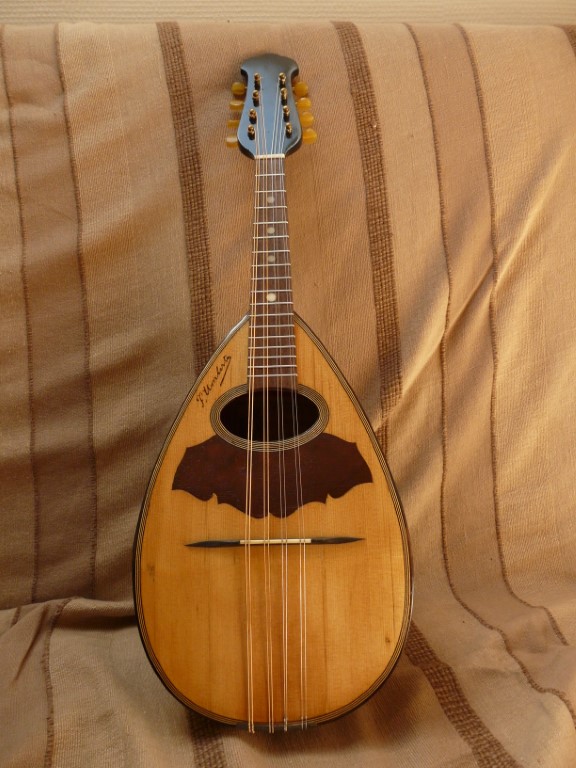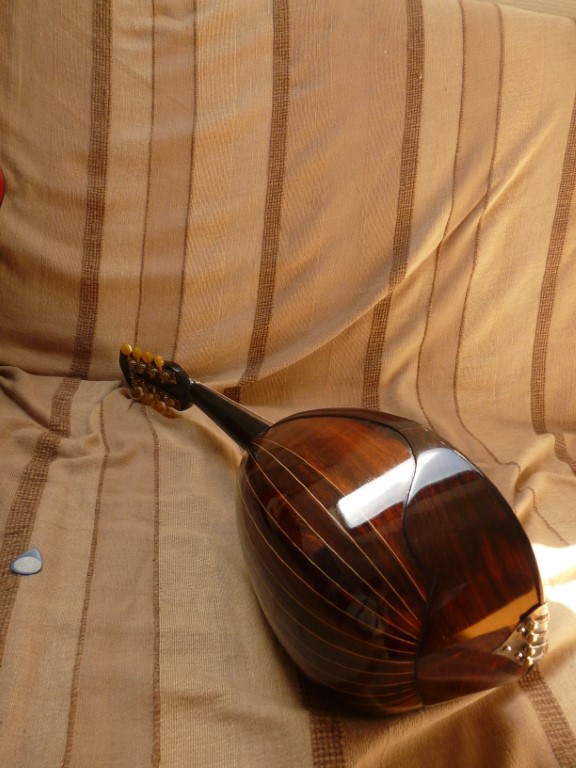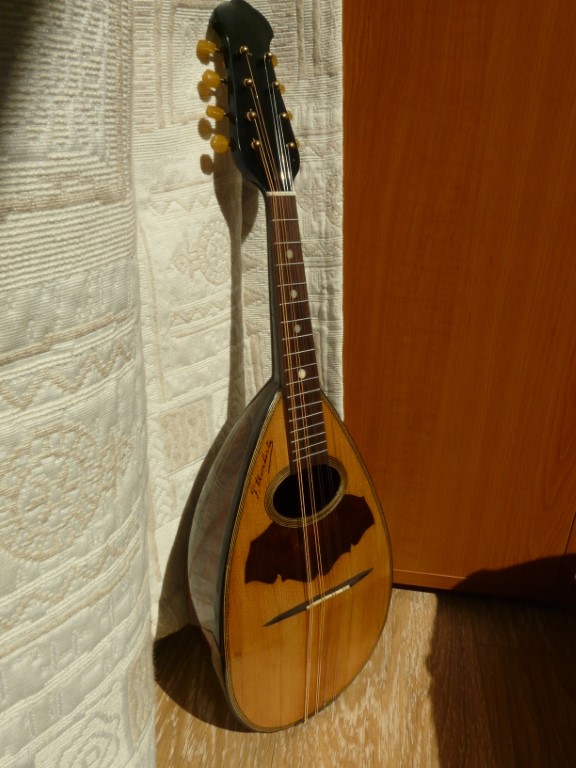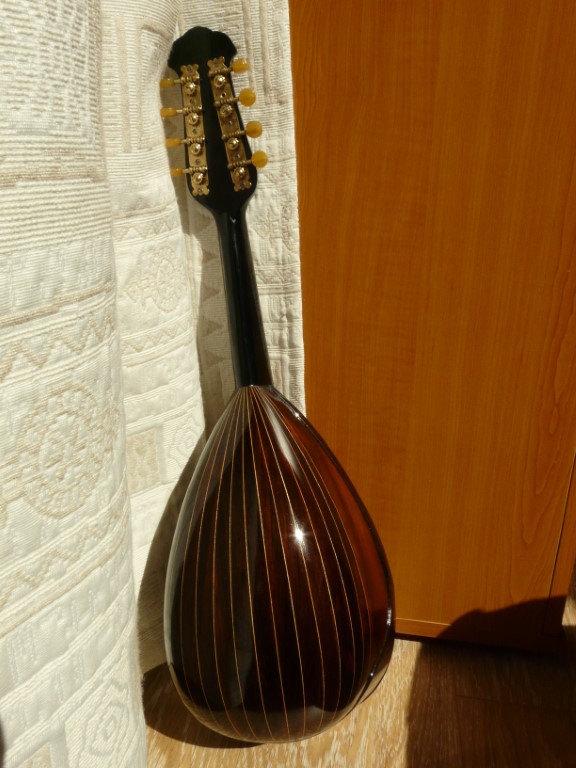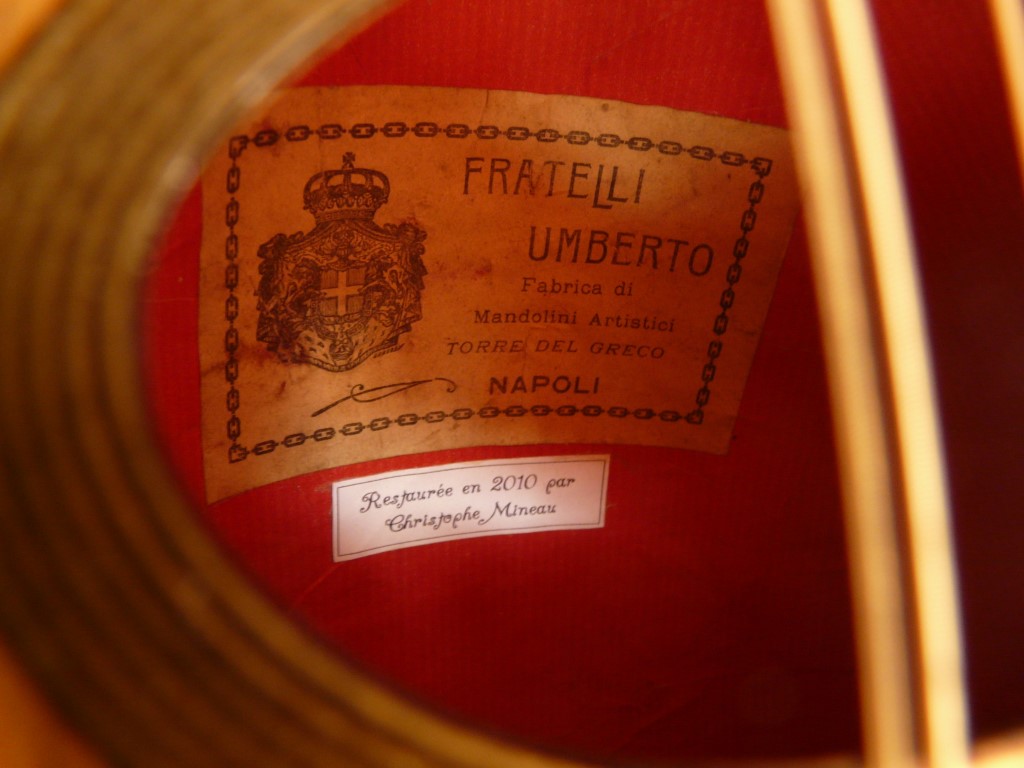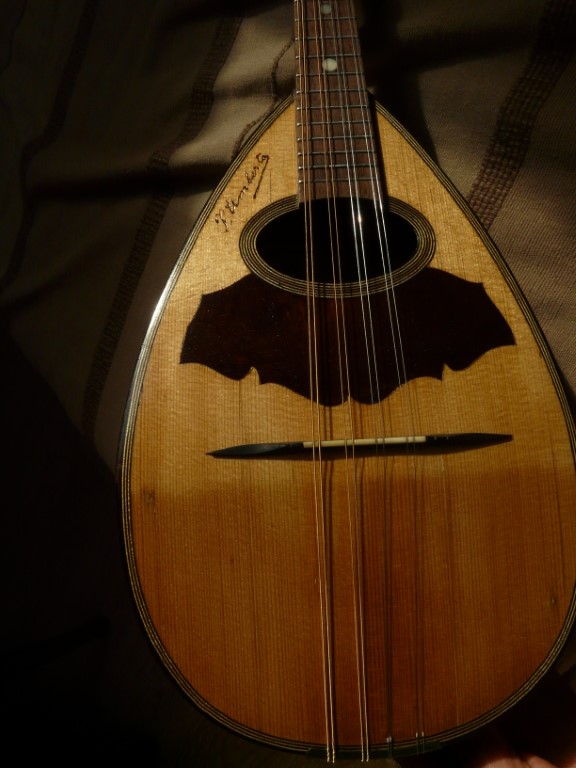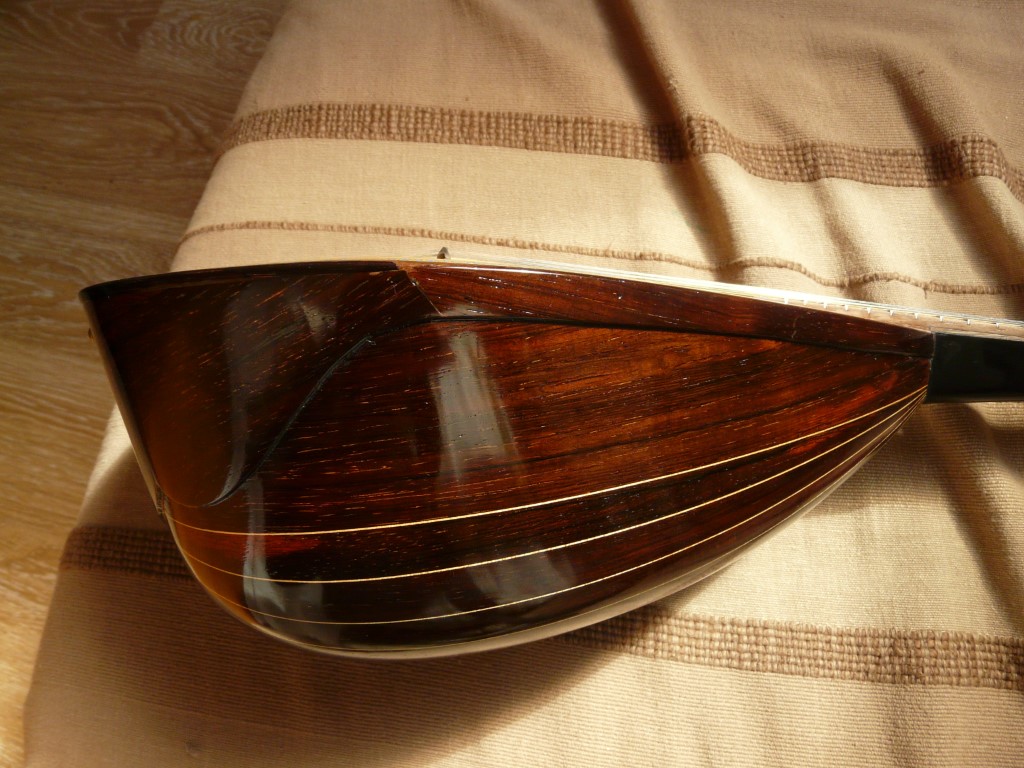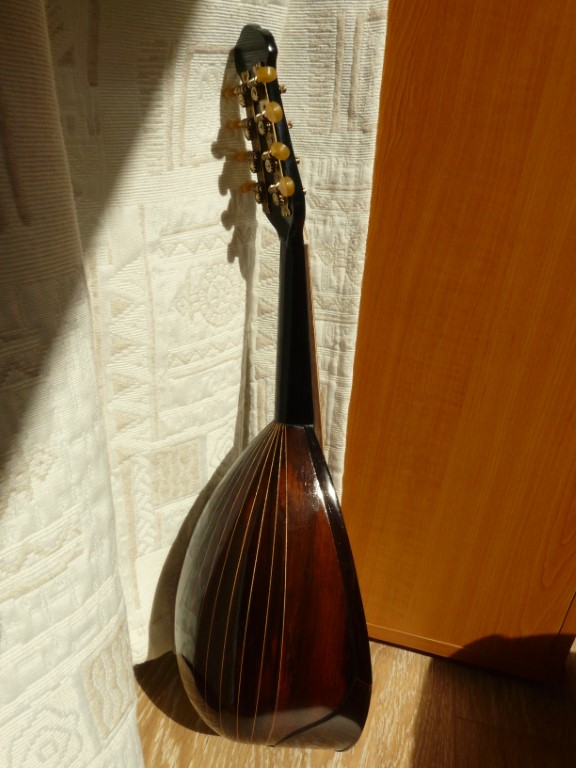 Here are some samples of the very nice sound of this mandolin :
Trémolos :

Your browser does not support the audio element.

Hornpipe :

Your browser does not support the audio element.
Finish:
Following Dave Hynds's advice, I opted for a "True Oil" finish, this is a gunsmith finishing product, difficult to find in France, but that has however lots of qualities, like ease of application (compared to French polish).
Its is a blend of boiled oils, which polymerize, giving a nice finish, that can be built shinny, like you build an alcohol based varnish.
I eventually decided to finish also the top, to protect it against stain and moisture.
The neck paint is automotive black paint.
Strings:
The strings have a very light gauge. You must absolutely not string this type of mandolin with "standard" modern Bluegrass or Celtic type of mandolin strings… They are made for mandolins that are much stronger, especially talking about the neck/body joint.
This mandolin has neither truss rod, and the neck is singularly thin.
I chose a set of GHS A 240 UL (.009 .013 .020 .032) strings, that can practically only be found on the Web, at SchneiderMusik.de, as often when it comes to complicated things in the matter of strings.
Storyboard :
You can follow the restoration of this mandolin, looking at this diaporama.
The Case :
You can notice that the case also had to be restored. This is a nice piece also, still with its original handle, made of rope, wrapped with waxed paper.
The steel ferules still work, I just miss the key of the brass center lock.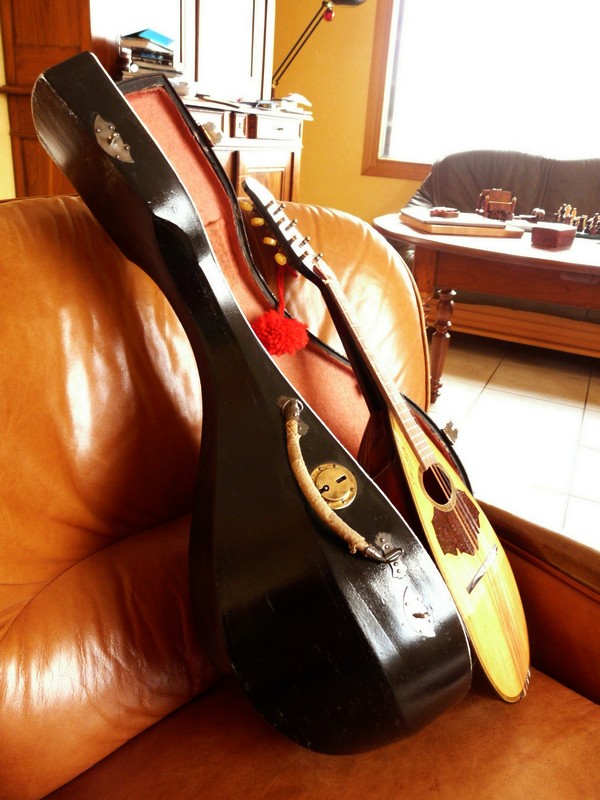 Do not hesitate to leave me a little word !
Buxus / Christophe Mineau