Pochette Jacques Du Mesnil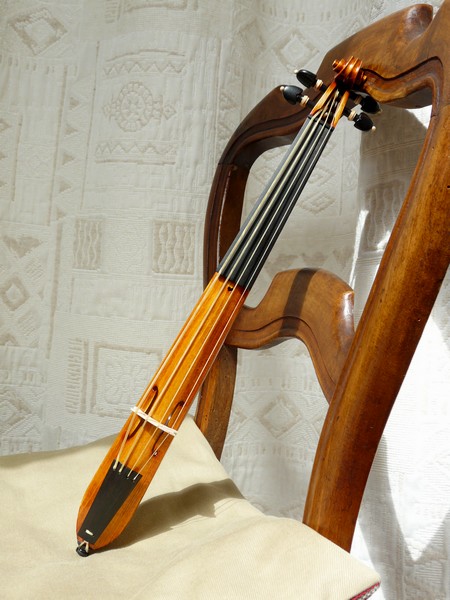 Table of contents :
Pochette after Jacques Dumesnil - 1647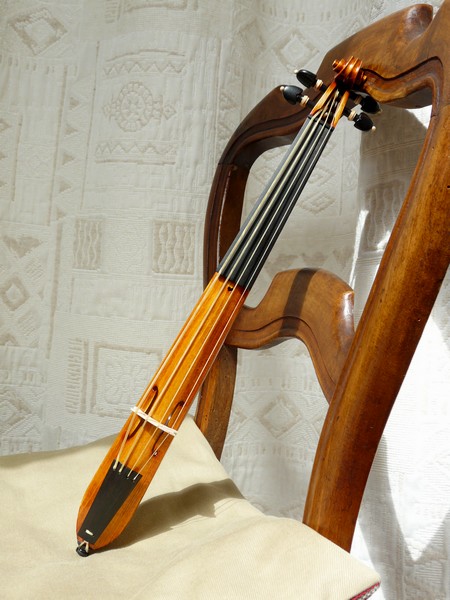 This little barocco instrument is a "dancing master pochette" or kit violin. It was used between the 17th and 19th century by dancing masters who teached at their pupil's home.
Its name comes from the fact that the teacher carried it tied in a long pocket of his jacket.
The dancing master used it mainly for marking the beat and also drafting a melody.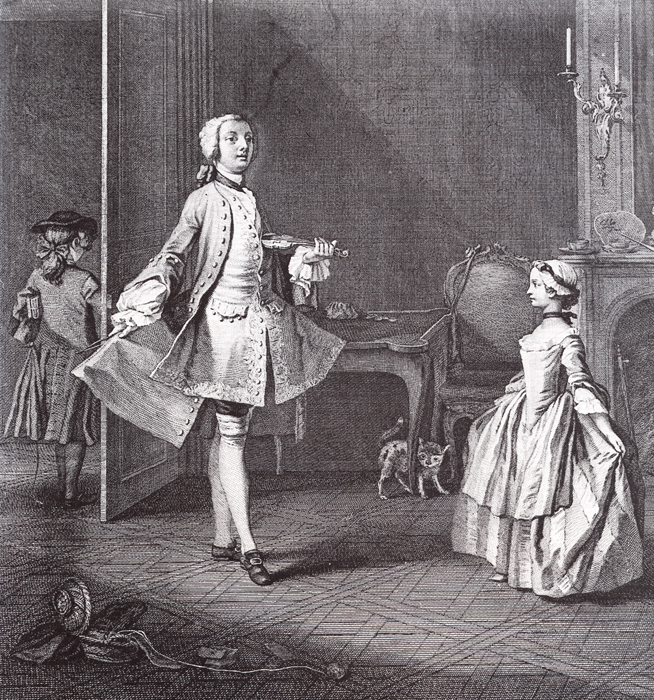 One can notice that at the 20th century, the pochette was still in use by ….. some circus clowns, like the famous Swiss clown Grock who played with an authentic pochette from the 18th century.
See the wonderful video, back from 1931 "Grock, Son grand numéro".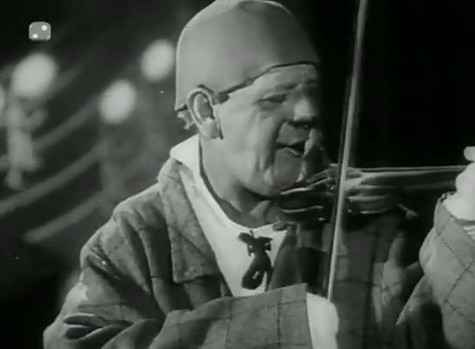 I have completed this pochette by April, 2013.
The original model is at the Victoria & Albert Museum, in London. It is attributed to luthier Jaques Dumesnil, 1647.
The plans were drawn by the British luthier Owen Morse-Brown. (many thanks to him !)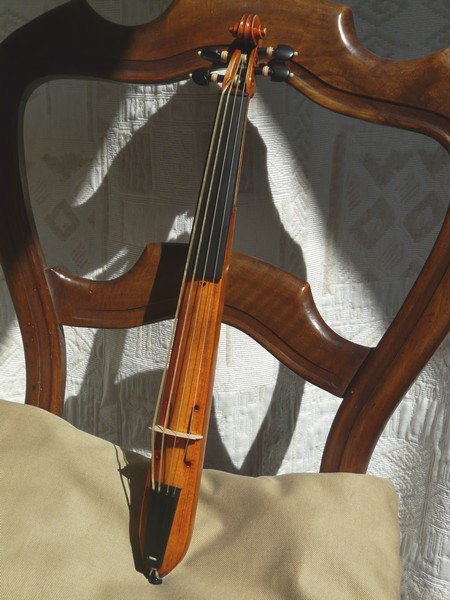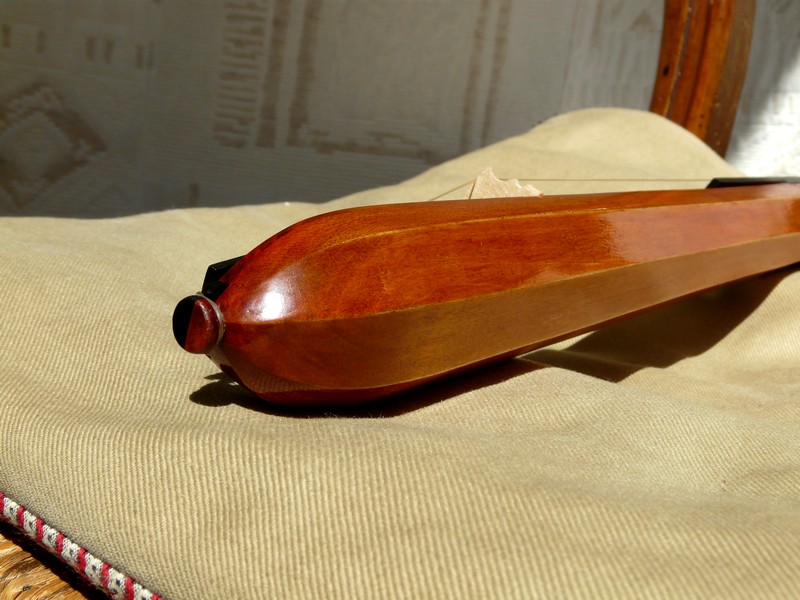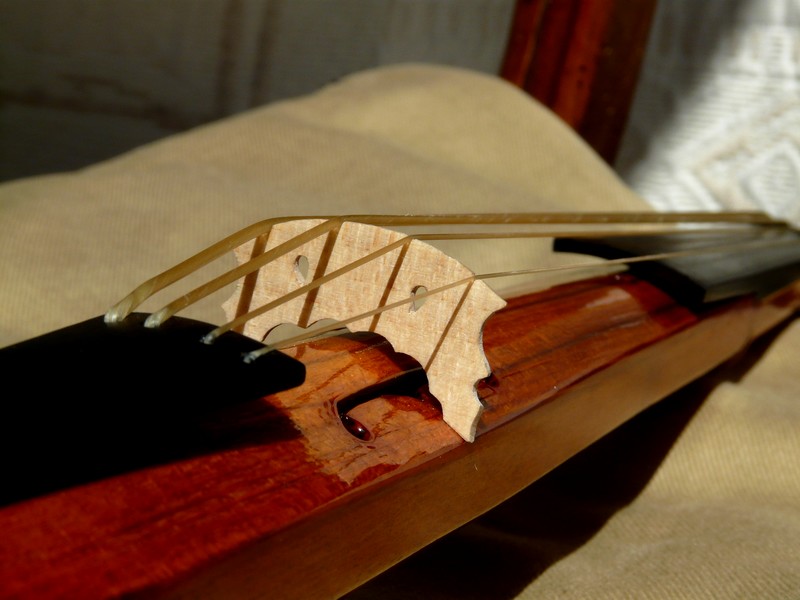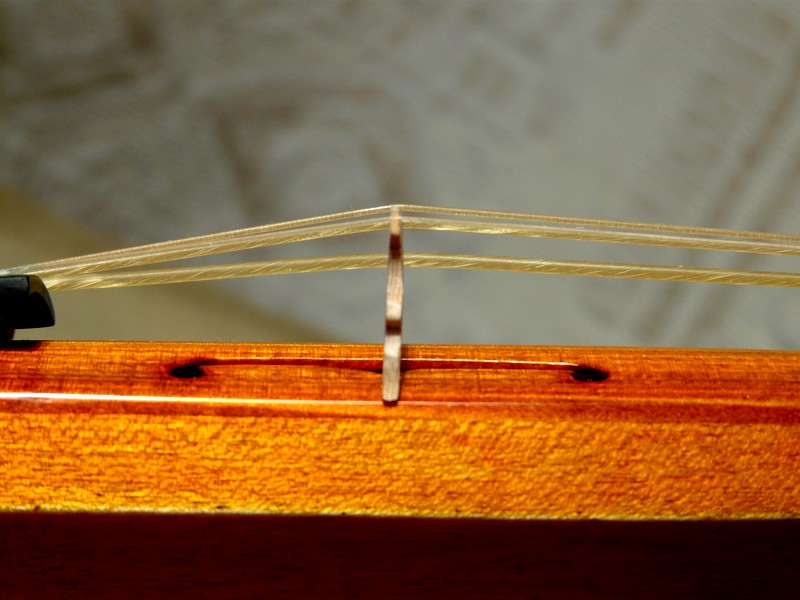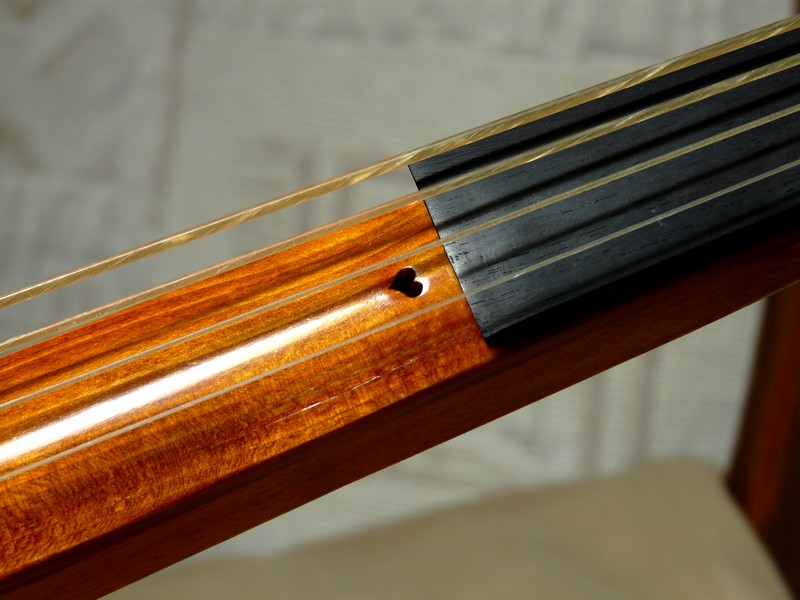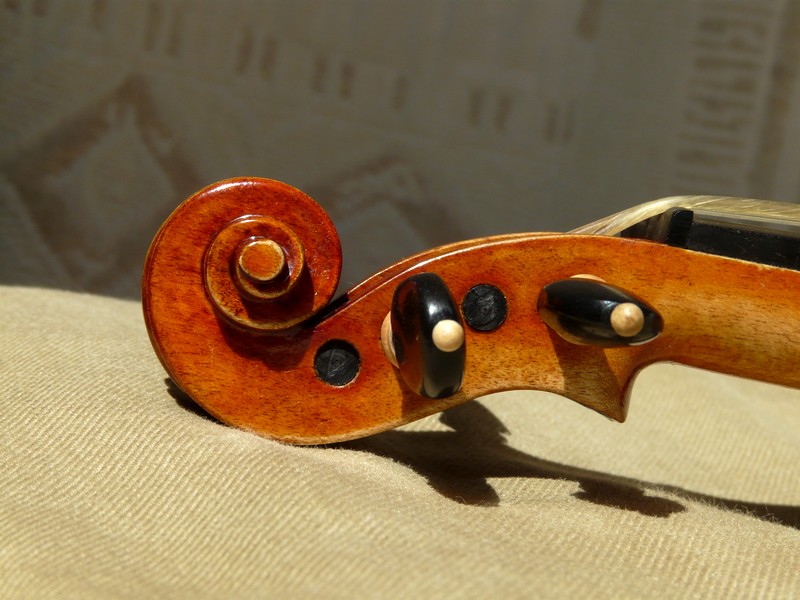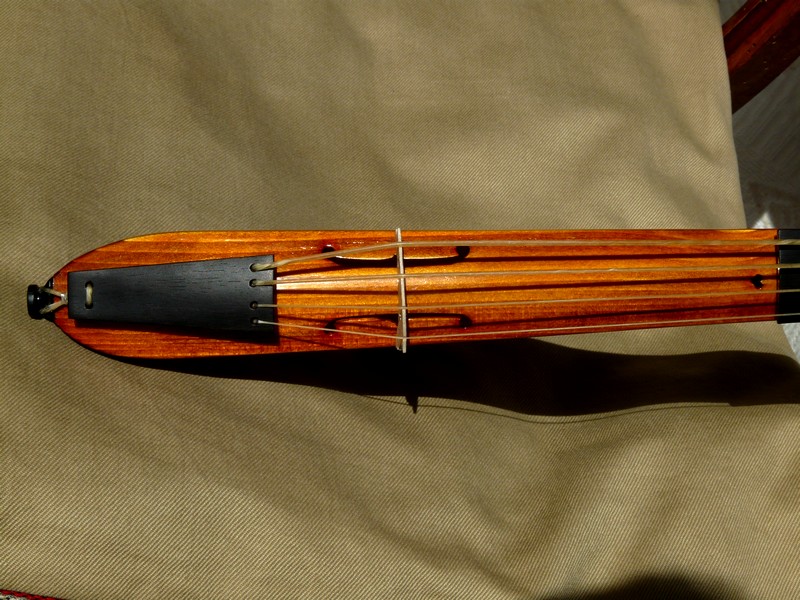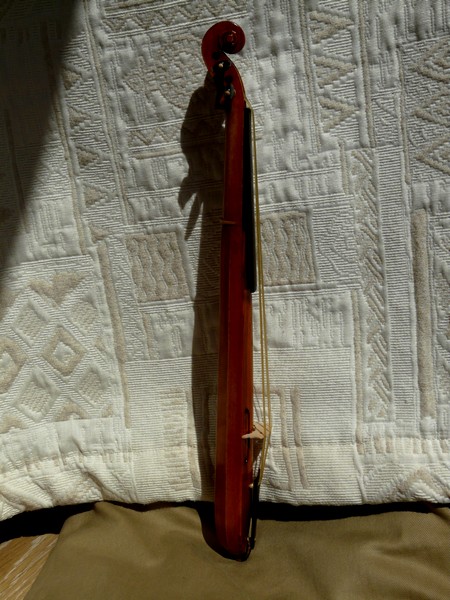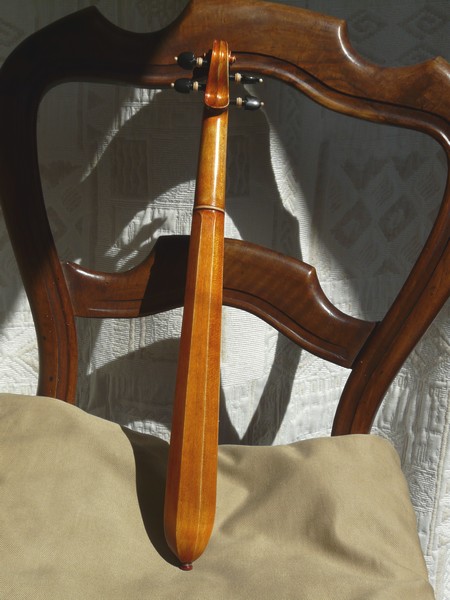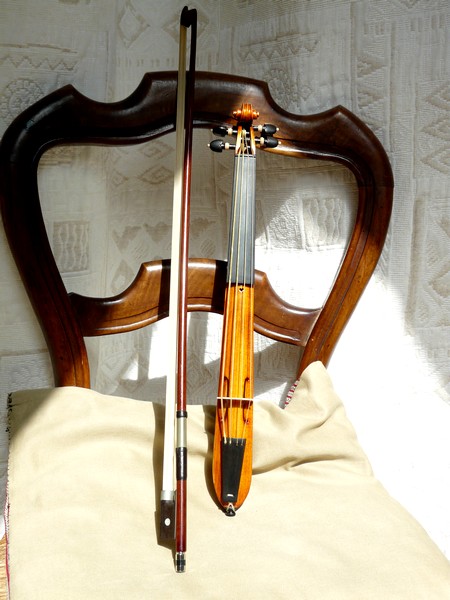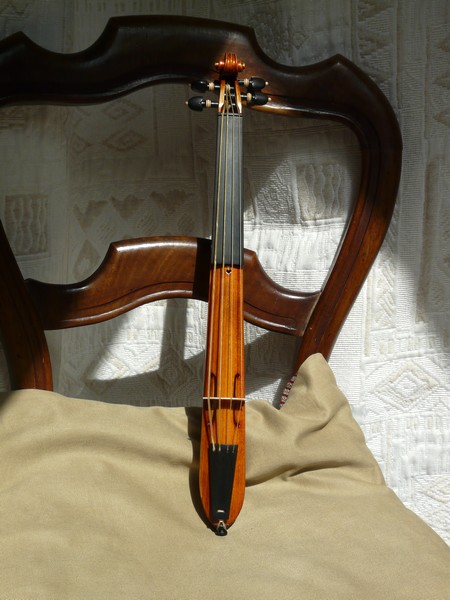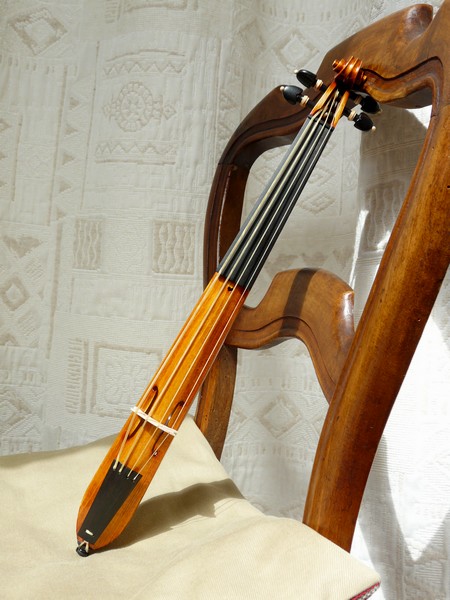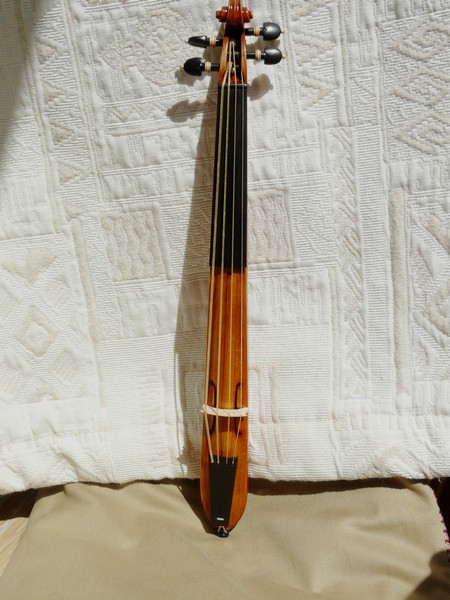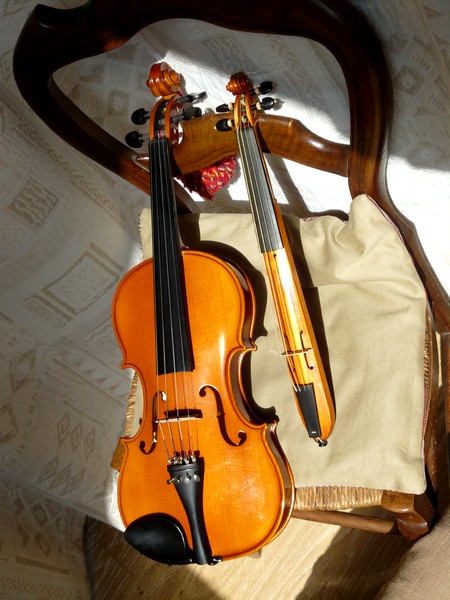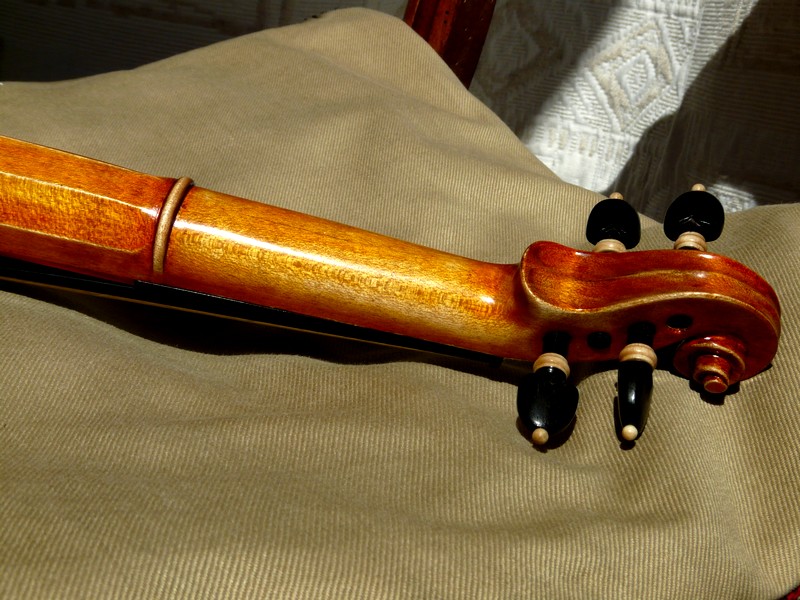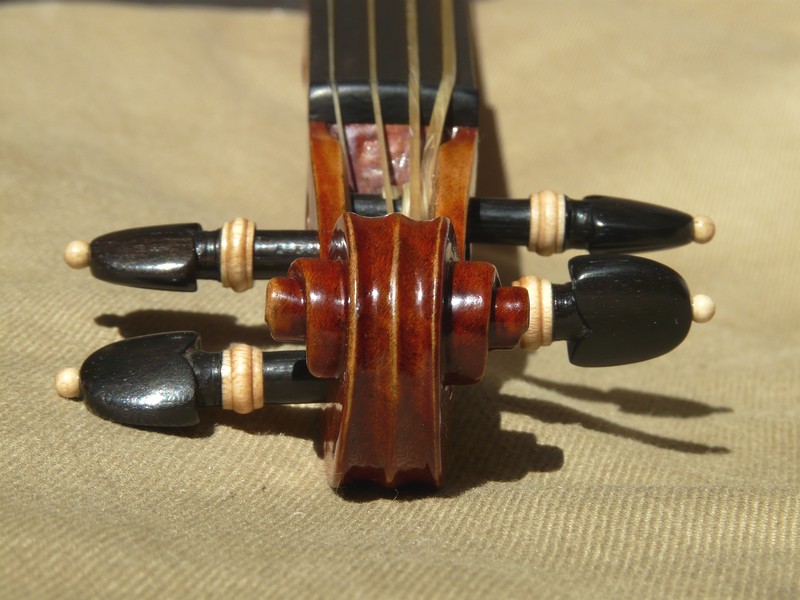 Sound samples :
Open strings

Your browser does not support the audio element.
Characteristics:
Body made of maple, top of spruce, fingerboard, tailpiece and nuts of ebony.
Length is a little over 40 cm, width 3 cm.
This is a monoxyl body, that is to say done from a single piece of wood, from the scroll to the heel. Il is hollowed from the strart of the fingerboard, down to the heel, leaving side walls of less than 2 mm thick.
The button is not separate. It is in two pieces, the bottom is part of the body. The top is included to the top nut. The back is carved with 5 ribs like, but everything is from a single piece.
The bridge has an original shape, it is very lightweight, 2 mmm thick.
The pegs (see their making in this article) have a 1/64 size. They are made of ebony and boxwood.
The bow is a 1/2 violin one. I still have to make an ebony barocco style bow, and also a case …
The tuning is one fourth above a regular violin : c' g' d'' a''.
The strings are gut strings, 1.7 mm for the thickest, 0.46 for the thinest.
The varnish is done the traditionnal way, as teached by my friend Jean Marie-Olaya (founder of the forum http://www.forum-lutherie.org) :

stain with black coffee
"encollage" (french term for pore filling and pre-varnish) with gamboge
varnish based from gamboge, shellac, benzoin
a few drops of anilin dies, red and black
Step by step making of :
See the making of slide-show.
A little video :
Here is the happy owner, discovering his new instrument :
Don't hesitate to contact me, leaving a message below !
Christophe