Silver soldering a bandsaw blade

Silver soldering a bandsaw blade
Very often, a bandsaw breakage is felt as a fate that inevitably leads to the replacement of the blade.
It is however so simple to solder it back, using silver brazing. It is actually extreamly tough, so that the next breakage will probably not happen at the solded joint, if the weld is properly done.
Soldering does not require much equipment. The blade is not very massive and does not need a big heating power for reaching a high temperature. A simple butane soldering torch, even a little torch like the one used for cooking (do you know the french "Crème brûlée ?"

) can be enough.
I personnaly use some silver based brazing sticks that you can find in any hardware store. The greater silver proportion you use, the stronger the weld will be.
The following document is a method found on the internet. The document also describes the making of a fixture to do so.
It is available in the download section.
In addition to this method, here are some illustrations that can be more explicit, taken from another document :
The way to fold the blade if you want to grind a straight joint (this is enough for the widest blades, it is not necessary to make a bevel for the blades that are the thickest) :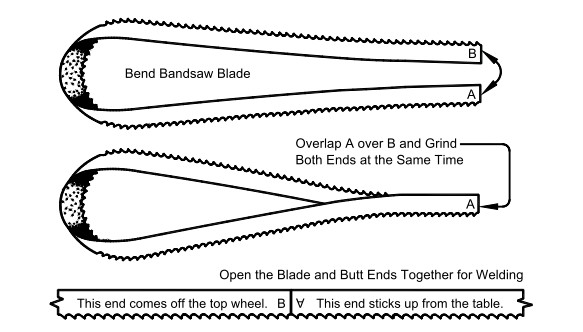 The way to grind a bevel, on the smallest blades, stacking the two ends of the blade. That way you can have exactly mated bevels that will assemble perfectly :
and eventually, for those that have metal milling capacity, another shape, more compact, for the fixture :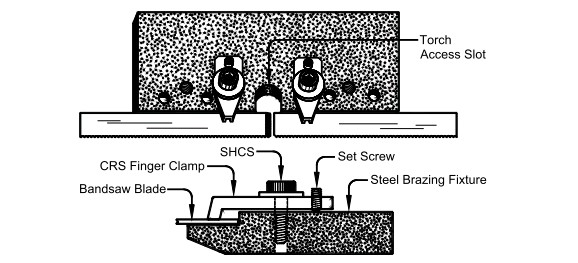 Feel free to comment.
Christophe.