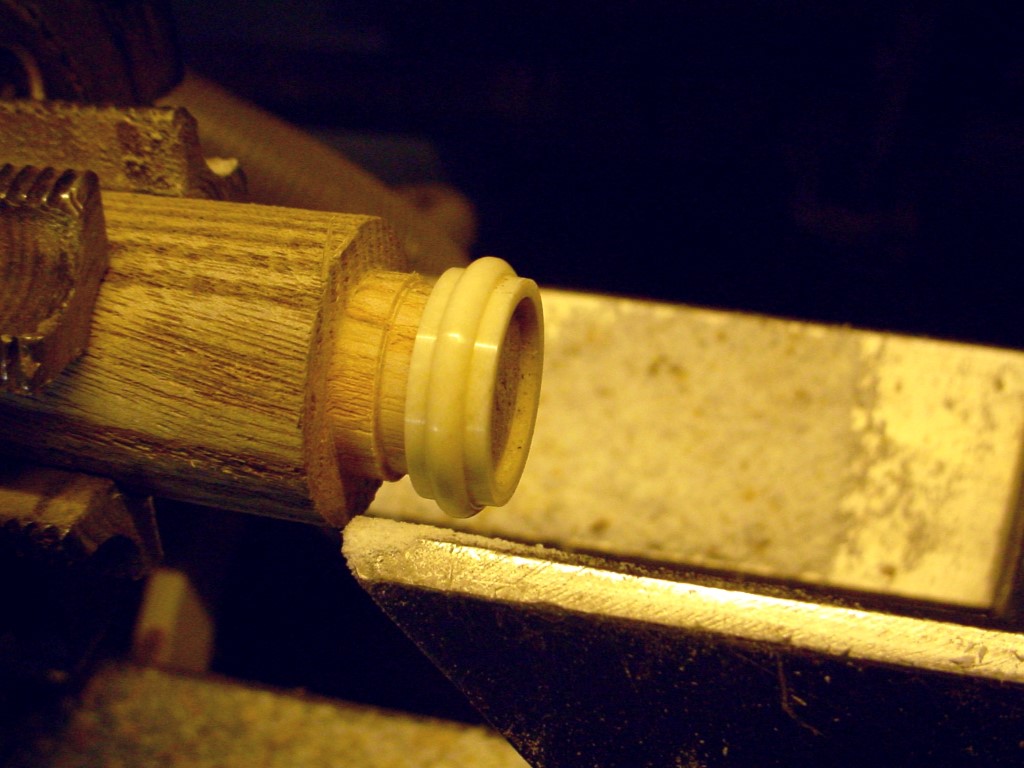 Table of contents :
Making a bone ring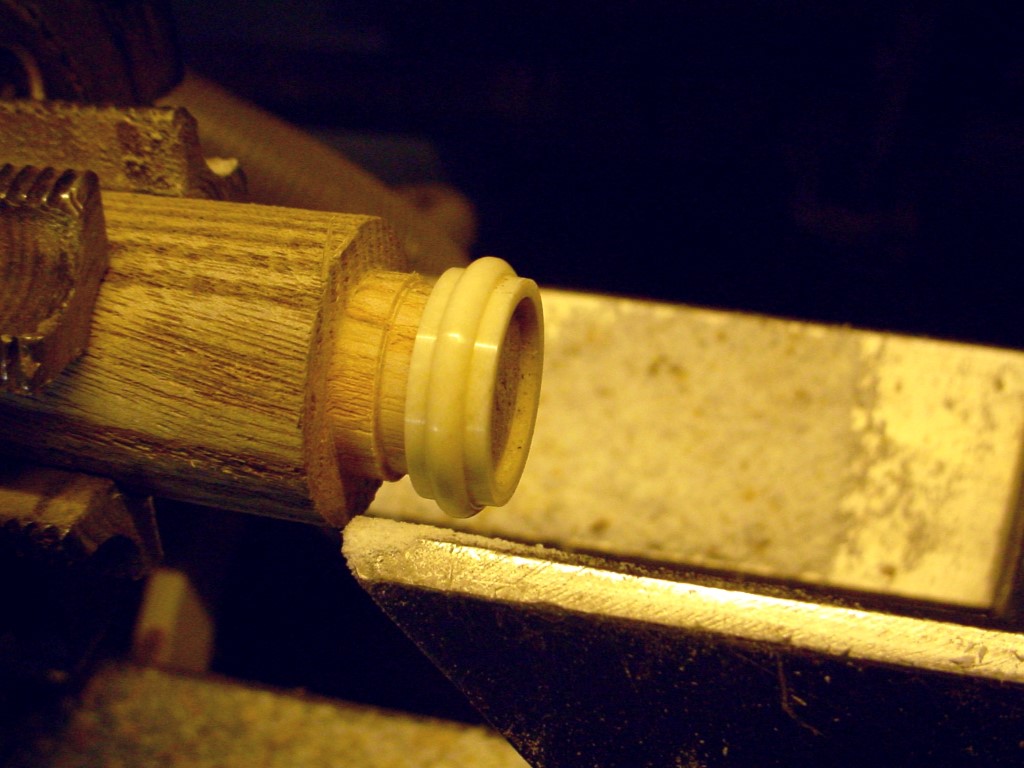 Bone is an economical and sustainable alternative to ivory, which there is no question of using any longer nowadays.
We can make mounts for musical instruments, but also very beautiful jewels.
The bone I use is beef bone that my butcher friend provides me. It is shin bone, where it is the thickest.
The preparation consists essentially of splitting the bone in half with a hacksaw and boiling it for a long time, at least 2 hours.
At the end of this time, the remaining marrow and pieces of cartilage are easily detached.
The bone is then brushed and dried. It can be soaked to bleach in a solution of bleach, but not too long, at the risk of making it crumbly.
I have heard of two alternative methods, that last longer but apparently very effective:
to bury the bone in the garden for several weeks, and these are the soil bacteria who will do the work
Or deposit the bone at the top of an anthill and it is the ants that in this case clean the bone to its nooks and crannies.
_ Warning! working bone requires the wearing of a dust mask, this dust is indeed very fine and harmful to the lungs!
When I work it on the lathe, I always have the vacuum nozzle nearby._
×
- 1 -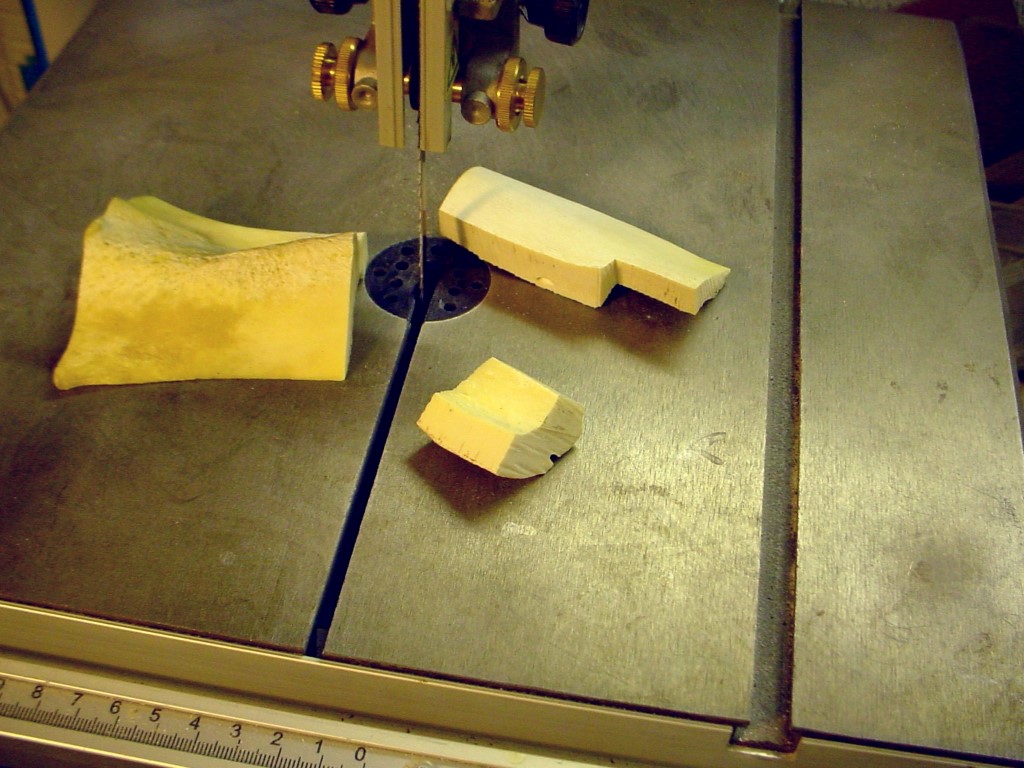 |
Trimming with band saw or hacksaw.
I select a flat part with enough thickness.
—|—
- 2 -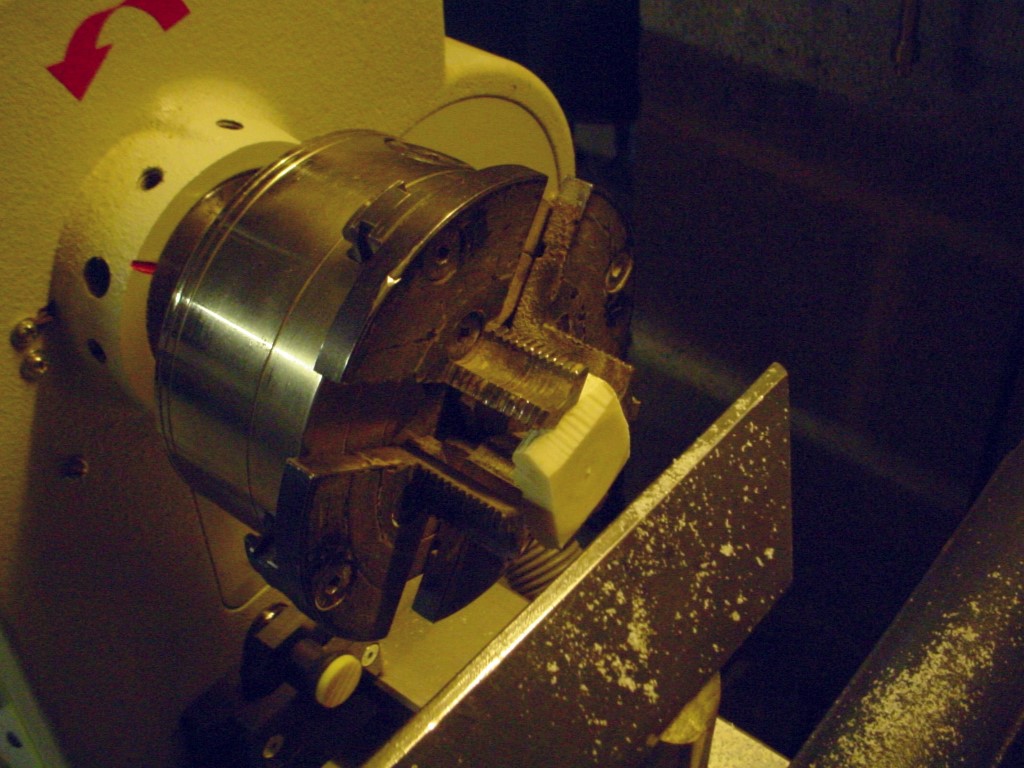 |
The blank is gripped in the four-jaw chuck.
Sometimes, I take the piece under pressure between the tailstock live center and a plate, and I turn the outer part, to obtain a cylinder in order to hold it on the chuck.
- 3 -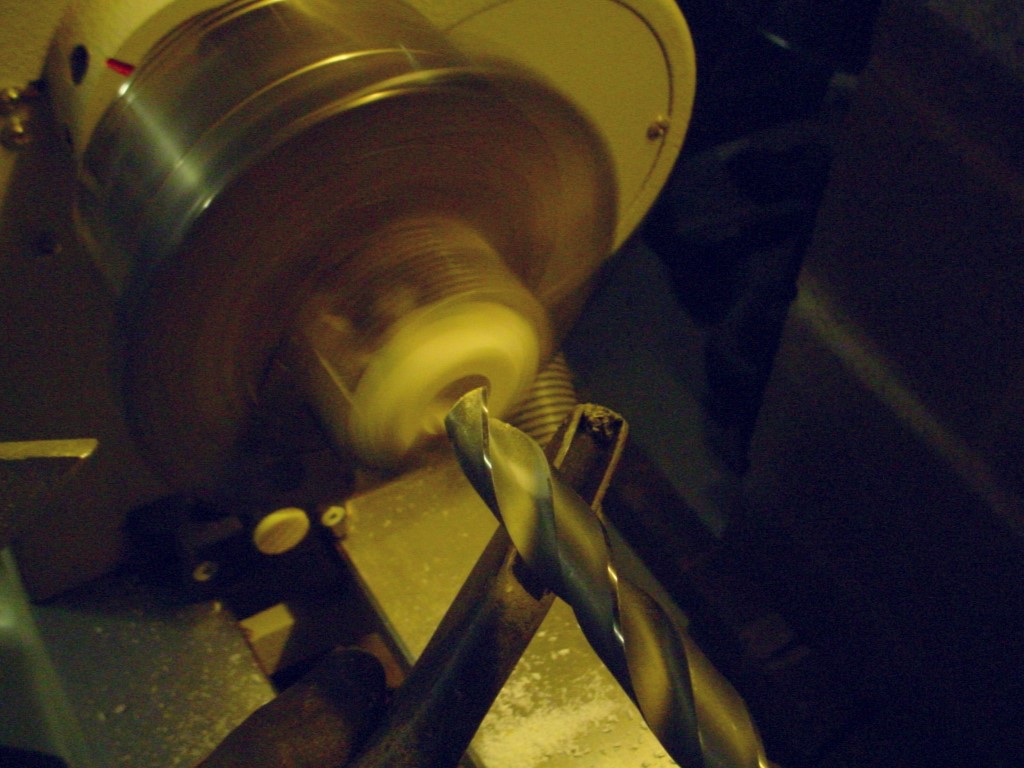 |
Drilling
- 4 -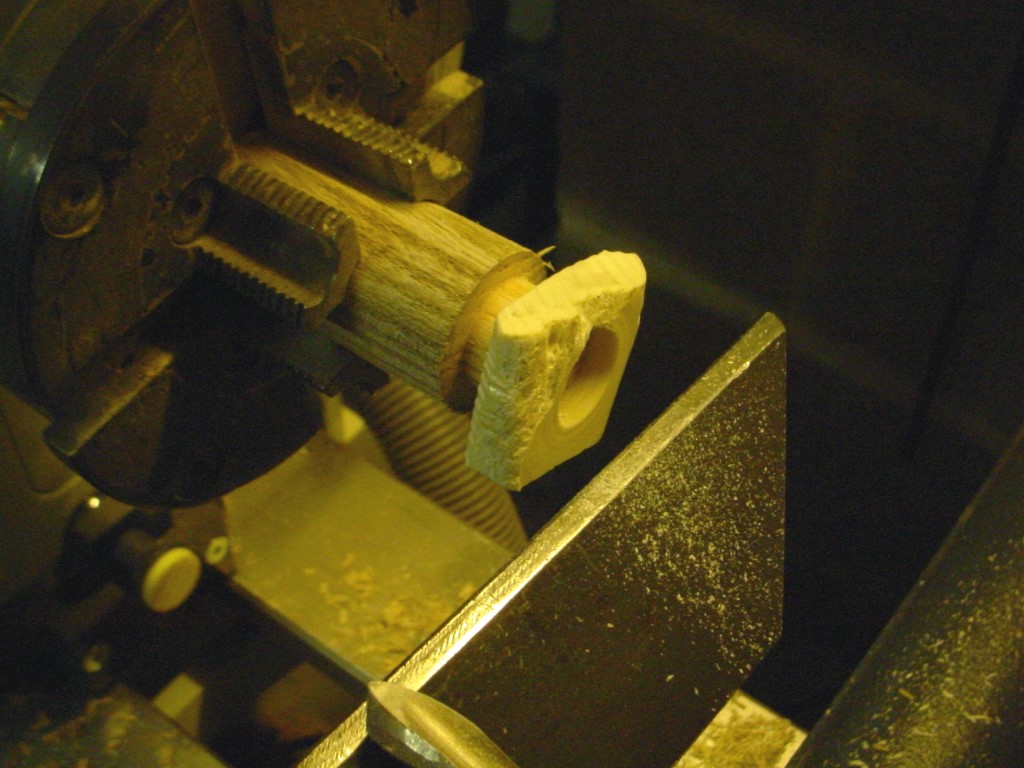 |
Workpiece inserted on an improvised wooden mandrel (tight).
- 5 -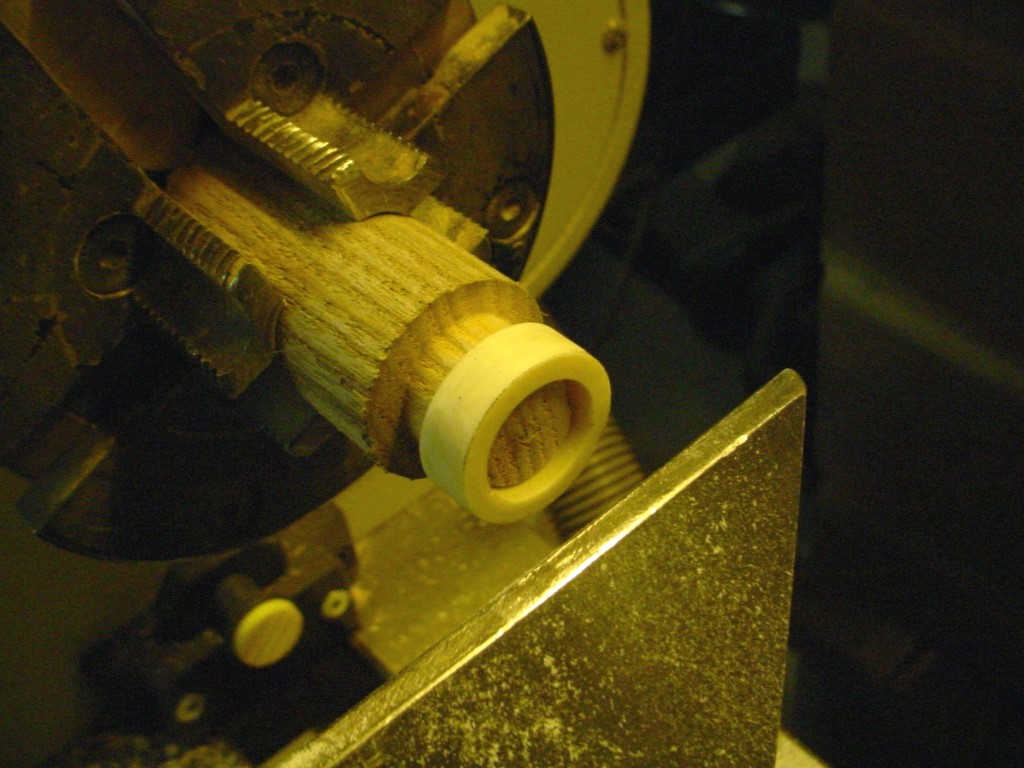 |
Turning a cylinder..
The preferred tool is the scraper with an edge preferably burnished and showing a bur.
A small gouge very well sharpened may be suitable, but it's quite risky (not recommended for beginners).
- 6 -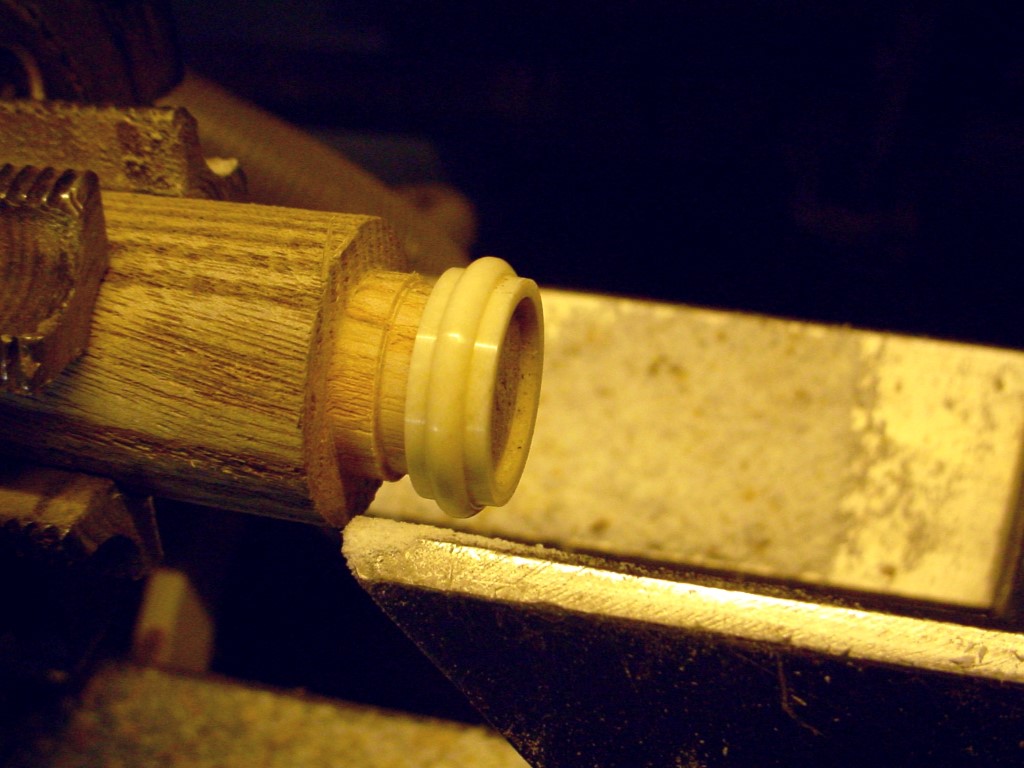 |
Shaping with a shape tool or a small gouge and a parting tool as here.
It remains to sand with a fine grit, and finish with steel wool. The bone takes a very nice polish and a patina that immediately looks old.
Do not hesitate to react to this article in case of question or you can contact me also on my Facebook page.
Good work !
Christophe